3,500,000 €
THE GAIA ESTATE, near Danilia, Corfu
12 Beds
12 Baths
4 Receptions
800 m2
5550 m2
This is 3, absolutely outstanding, Mediterranean-style villas and separate large guest/staff house, reflecting the highest standards of design and build quality, in a convenient location, 3km from the nearest beach and the international Marina, and only 11km from Corfu Town and the Airport. Each property has commanding views down to the Marina, Corfu town and along the scenic north-east coast.
Ref: 10159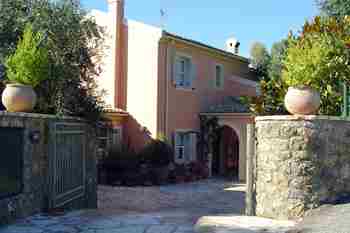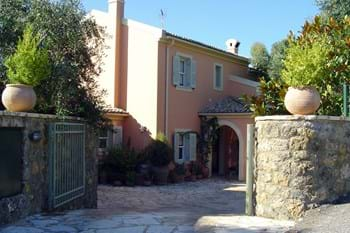 3,000,000 €
ARCADIA VILLA, Kommeno
5 Beds
5 Baths
2 Receptions
312 m2
1500 m2
Prestige property for sale in the exclusive area of Kommeno, practically on the sea and within easy reach of Corfu town, the airport, marina and golf club.
Ref: 10409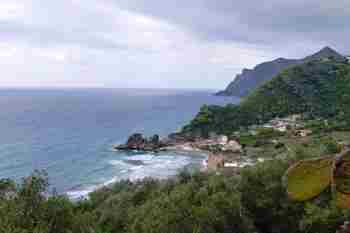 3,000,000 €
PELEKAS BEACH LAND, Pelekas
10200 m2
A rare, large plot of land, just a few metres from the stunning beach of Pelekas, with an old olive press in one corner. This plot could either be used to build a wonderful villa, or alternatively for commercial purposes.
Ref: 10855
2,800,000 €
VILLA FORTUNA, Potamos
4 Beds
3 Baths
249 m2
2080 m2
A totally unique villa, designed by its owners to the very highest specifications, this must be seen to be believed!
Ref: 20334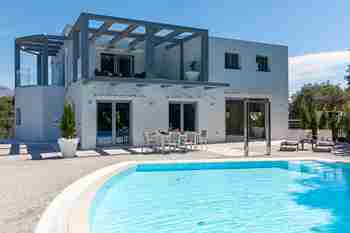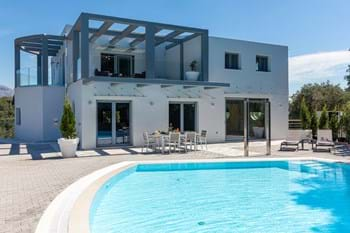 2,700,000 €
GOLDEN STAR VILLA, Kommeno
4 Beds
4 Baths
2 Receptions
480 m2
2007 m2
Completed in 2021, this impressive villa has 4 bedrooms, an indoor and outdoor swimming pool, and a private tennis court. Located in the prestigious area of Kommeno, close to the marina and the beaches on the NE coast.
Ref: 17921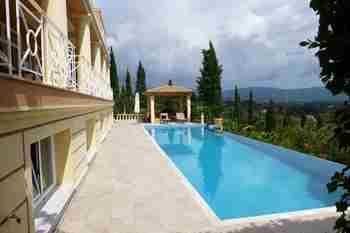 2,500,000 €
VILLA GOUVIA, Gouvia, Corfu
4 Beds
4 Baths
2 Receptions
700 m2
6400 m2
Villa Gouvia is an incredibly luxurious villa with amazing views towards the Marina. It has been built using the best materials and would be an ideal setting for glamorous parties. From its portico entrance, to the marble floors, concealed lighting and curved staircase, this property makes its impressive mark.
Ref: 10741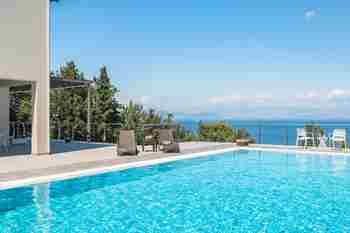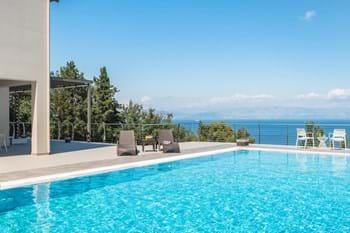 2,500,000 €
VISTA AZUL, Gastouri
5 Beds
4 Baths
2 Receptions
500 m2
7400 m2
A stunning 5 bedroom villa, with swimming pool, tennis court and guest studio in a great location near the Achilleon Palace, convenient for Corfu Town, the airport and the new Marina in Benitses.
Ref: 19016
2,100,000 €
SUNSHINE APARTMENTS, Kommeno, Corfu
The apartments are conveniently located only 15 minutes from Corfu Town, with lovely sea views and surroundings. Kommeno Bay Apartments are an established business in a very popular area.
Ref: 13627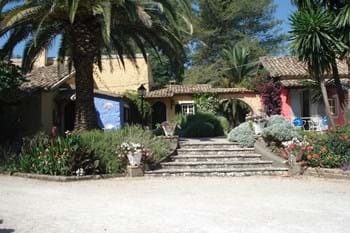 2,000,000 €
CASA LUCIA, Sgombou
13 Beds
13 Baths
10 Receptions
563 m2
Casa Lucia is an old stone olive press has been converted into 8 self-catering cottages and a large event room. Approaching the property - some of which dates from Venetian times - is like entering a traditional village, with the cottages painted different colours, and their design resembling the effect of village rooftops.
Ref: 11373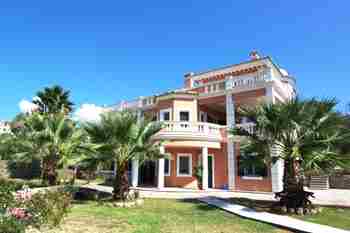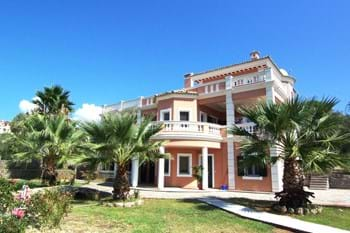 1,800,000 €
LAGOON VILLA, Kommeno, Corfu
7 Beds
5 Baths
2 Receptions
430 m2
3750 m2
An extravagantly designed villa in one of the most sought after areas of Corfu. With luxurious finishings and a beautiful view, this is an exceptional property. The owner is very keen to sell and is willing to discuss a variety of payment options on the asking price.
Ref: 10408
1,500,000 €
DAFNILA VILLA, Kommeno, Corfu
3 Beds
3 Baths
4 Receptions
473 m2
3585 m2
With the potential to become one of Corfu's most spectacular properties, Dafnila Villa has an enviable location overlooking the bay of Kommeno.
Ref: 10804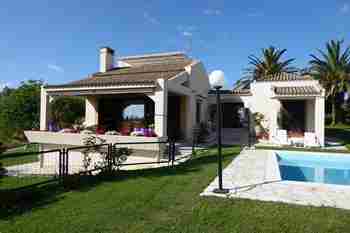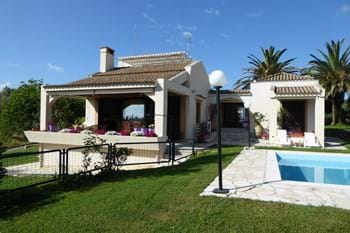 1,500,000 €
HIBISCUS ESTATE, Akrokefalo, Gouvia
5 Beds
4 Baths
2 Receptions
350 m2
23000 m2
This beautifully designed villa has a lovely south east facing view from the house and the swimming pool, and its own vineyard, producing both chardonnay and moscato wine!
Ref: 11263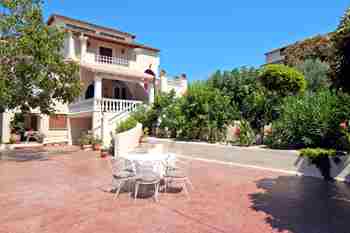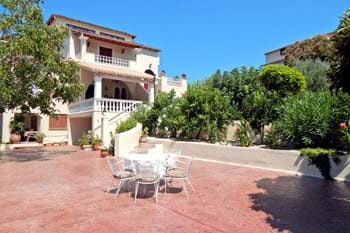 1,200,000 €
KASTANIA HOUSE, Kanalia, Corfu
10 Beds
8 Baths
3 Receptions
730 m2
1260 m2
A large property, conveniently close to Corfu Town, which would be adaptable to use either as several separate apartments, as per the current layout, or which could be re-configured to make more, smaller units for letting.
Ref: 11512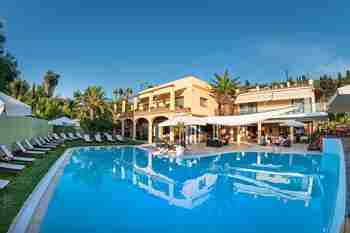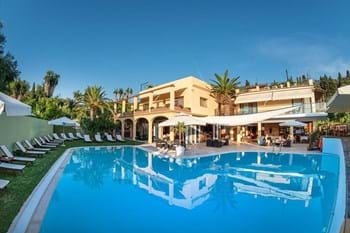 1,200,000 €
PELEKAS POOL COMPLEX, Pelekas
10 Beds
10 Baths
600 m2
1800 m2
A small complex of 10 luxury rooms, a huge swimming pool with sunbathing area, bar/restaurant, and the possibility ot develop a stunning roof terrace, or create additional accommodation.
Ref: 13659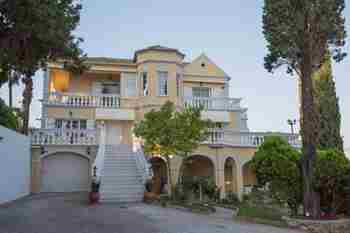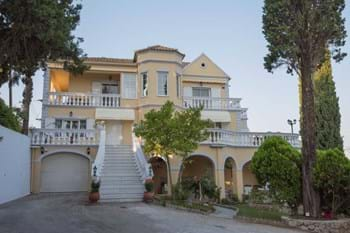 1,200,000 €
PALACE VILLA, Gastouri
7 Beds
6 Baths
3 Receptions
450 m2
2500 m2
A large, absolutely stunning property in a sought after location near the Achilleon Palace, the villa offers wonderful views, lovely gardens and a convenient location close to Corfu Town.
Ref: 17771