2,300,000 €
KOMMENO BAY APARTMENTS, Kommeno, Corfu
Conveniently located with lovely sea views and surroundings, Kommeno Bay Apartments are an established business on the Kommeno peninsula.
Ref: 13627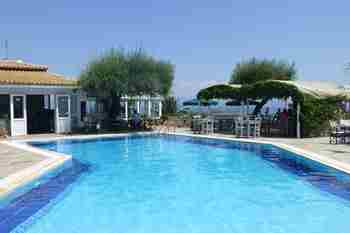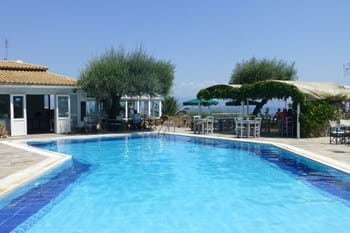 1,500,000 €
PANORAMA HIDEAWAY, Dassia, Corfu
20 Beds
16 Baths
1 Reception
5500 m2
Panorama Hideaway is a friendly, family-run apart-hotel with popular restaurant bar, located on a hill top overlooking the sea at Dassia on the north east coast of Corfu. Just a short walk from the beach, it has its own swimming pool and offers a peaceful environment in large established gardens.
Ref: 11150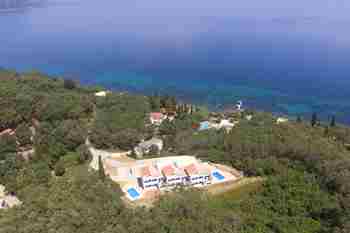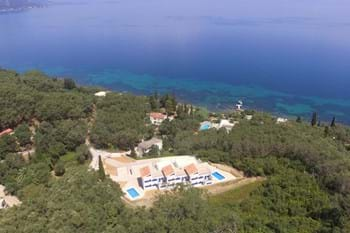 1,250,000 €
TURQUOISE HARBOUR VILLAS, Boukari, Corfu
12 Beds
12 Baths
3 Receptions
480 m2
4000 m2
Three unique villas built in contemporary style each with a private swimming pool, only 100m from a tiny turquoise harbour, on the calm south east coast, just a short distance from the well known village of Boukari. The villas are recently completed and represent an excellent letting investment.
Ref: 11156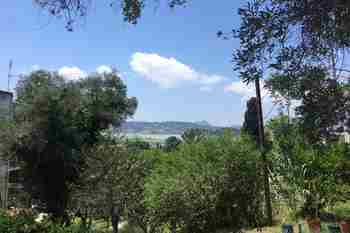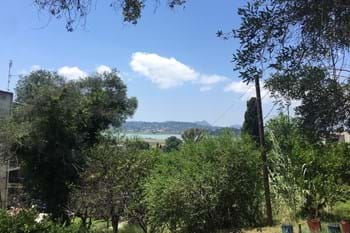 1,000,000 €
KANONI LAND, Kanoni, Corfu
3 Beds
1 Bathroom
142 m2
2300 m2
An ideal spot for those looking for an investment opportunity, this large plot of land is situated right in the middle of the Kanoni area near Corfu Town.
Ref: 12559
880,000 €
BONITA, Dassia
725 m2
Large commercial premises, divided into already tenanted shops (taverna and snack bar), office space and apartments - one of which is vacant, in a popular main road position within walking distance of the sea.
Ref: 10759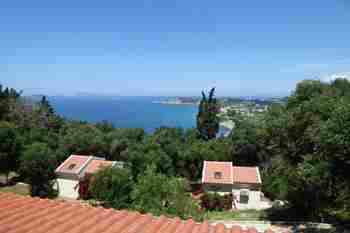 795,000 €
ELAIONAS, Afionas, Corfu
7 Beds
6 Baths
400 m2
2595 m2
This beautifully situated villa, with breathtaking sea views, includes four separate self contained studios within its grounds, making it an ideal rental business opportunity.
Ref: 11174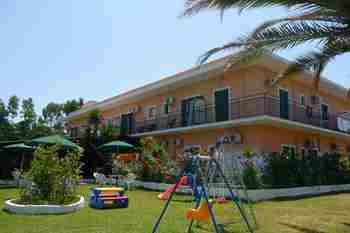 750,000 €
ROSE GARDEN HOTEL, Dassia
16 Beds
16 Baths
620 m2
4000 m2
This older style hotel is right in the centre of Dassia, within an easy walk of the beach and facilities but well back from the sounds and interference of the main road.
Ref: 11182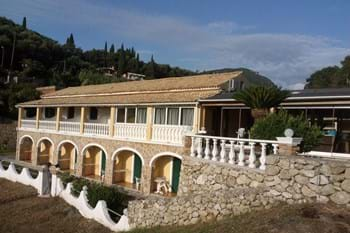 750,000 €
VALLEY HOTEL, Paleokastritsa, Corfu
With ten bedrooms, a large snack bar and dining area, and a huge swimming pool and sun terrace, this small family run hotel is in the centre of Paleocastritsa and very close to the sea.
Ref: 13647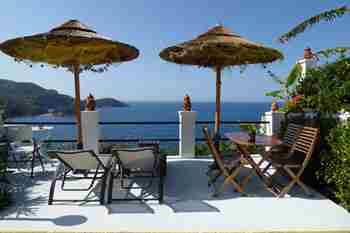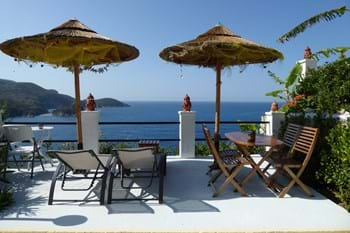 720,000 €
BOUGANVILLE APARTMENTS, Paleokastritsa, Corfu
6 Beds
5 Baths
100 m2
2000 m2
These apartments are in the most superb position on a plateau above the road into Paleokastritsa and so command a breathtaking panoramic view towards the sea and mountains.
Ref: 11167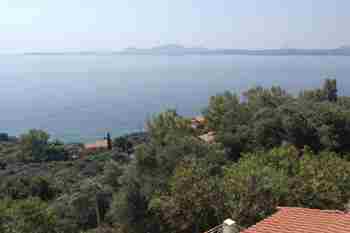 700,000 €
SKY VIEW APARTMENTS, Glyfa, Corfu
12 Beds
10 Baths
450 m2
8450 m2
Sky View Apartments are located above the lovely beach at Glyfa and within walking distance to the sea - though the return walk is rather steep! In need of some work as the apartments have not been operating for some years, but offering potential for someone prepared for a minor renovation project.
Ref: 11323
650,000 €
KORISSION VIEW VILLAS, Halikouna, Corfu
6 Beds
6 Baths
2 Receptions
200 m2
2650 m2
A small estate on the shores of Lake Korission, in a conservation 'natura' area, this comprises a 3 bedroom villa with pool, a 2 bedroom villa with pool and a studio house. Each house has its own gardens, fenced and gated, ensuring privacy for all. The property looks over the lake across to the 3km sandy beach of Halikouna.
Ref: 11146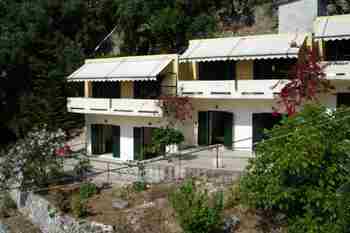 600,000 €
KAMINAKI VIEW APARTMENTS, Kaminaki
12 Beds
6 Baths
280 m2
1500 m2
One of 'the' locations, where you would normally only find luxury villas, these six 1980s apartments, in need of some upgrading, represent an opportunity to buy property in a prime location at an economic price, with great views!
Ref: 10340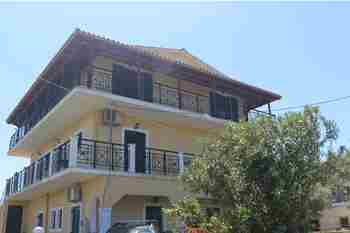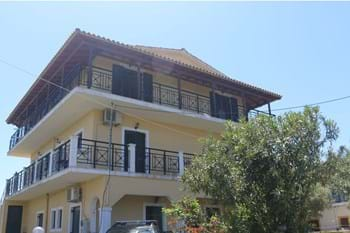 459,000 €
FLOWERTREE APARTMENTS, St.George's South, Corfu
12 Beds
9 Baths
300 m2
450 m2
The property is set on 3 floors and consists of 6 studios and 3 x 2 bedroom apartments, all with verandas, shower rooms and kitchenettes. It is only 100m from the long sandy beach of St. Georges South, and is a very short walk to shops and tavernas.
Ref: 12548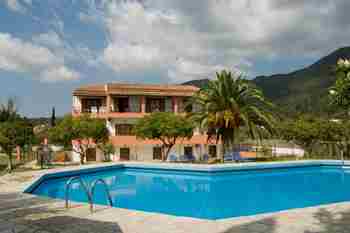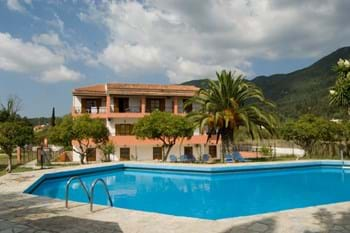 450,000 €
APOLLO STUDIOS, Agios Markos
14 Beds
14 Baths
1 Reception
375 m2
2200 m2
NOW GREATLY REDUCED this is a very interesting proposition for someone wanting to live in Corfu and run a business from home. It is located in the peacefularea of Agios Markos, yet convenient for the amenities of Ipsos.
Ref: 10047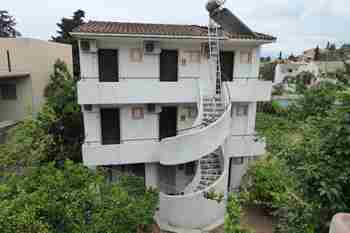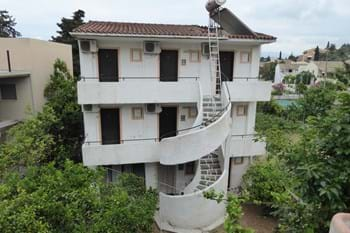 395,000 €
HAIDO APARTMENTS, Kassiopi, Corfu
22 Beds
19 Baths
2 Receptions
530 m2
680 m2
Located within a very short walk of shops and tavernas and only a few minutes further from the beach, this apartment complex could make a wonderful life-style change, as it includes a three bedroom apartment for use of the owner.
Ref: 11279