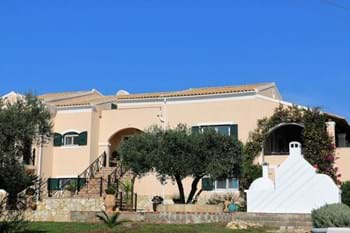 650,000 €
HALIKOUNA VIEW VILLA, Halikouna, Corfu
3 Beds
3 Baths
1 Reception
398 m2
4600 m2
A lovely villa only 400m from the beach, with views across the olive groves to the west coast. The house and grounds are in immaculate condition and the property is ideal as either a permanent home, or holiday villa. All reasonable offers will be considered.
Ref: 11439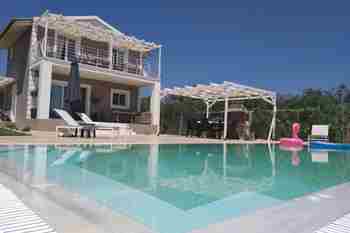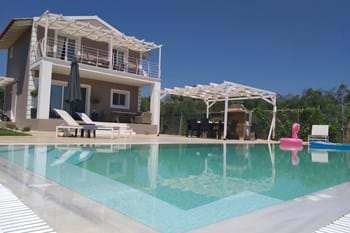 460,000 €
VILLA CALME, Halikouna
3 Beds
3 Baths
1 Reception
100 m2
1200 m2
One of a pair of new villas situated only 500m from the well known sandy beach of Halikouna, the house is an ideal holiday or full time home, or excelling letting investment. The area is a designated conservation area (natura) and is prized because of its peaceful atmosphere. Its sister villa is also available, either separately, or both properties together.
Ref: 17764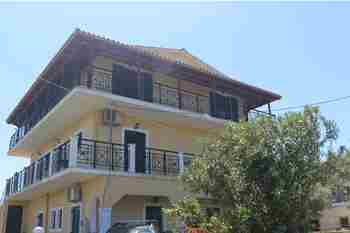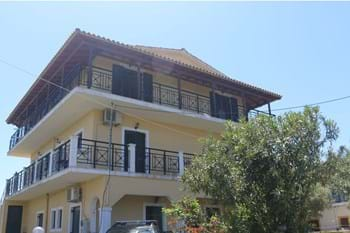 459,000 €
FLOWERTREE APARTMENTS, St.George's South, Corfu
12 Beds
9 Baths
300 m2
450 m2
The property is set on 3 floors and consists of 6 studios and 3 x 2 bedroom apartments, all with verandas, shower rooms and kitchenettes. It is only 100m from the long sandy beach of St. Georges South, and is a very short walk to shops and tavernas.
Ref: 12548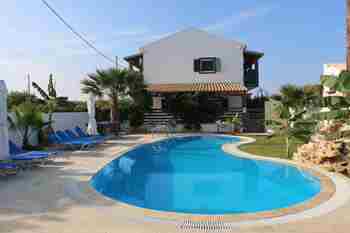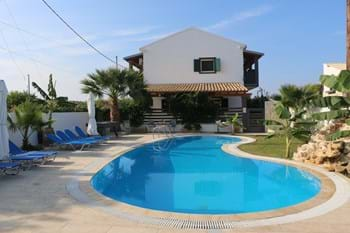 450,000 €
WATERFALL VILLA, Agios Georgios S., Corfu
5 Beds
2 Baths
1 Reception
200 m2
1500 m2
An immaculate, modern 5 bedroom villa in a popular resort, with huge swimming pool only 500m from the sandy beach, shops and restaurants of St. Georges South. The house is already a successful holiday let, as well as family holiday home.
Ref: 11459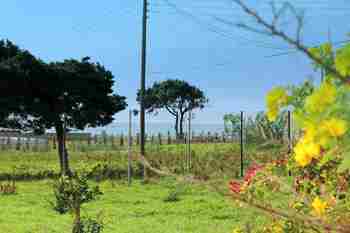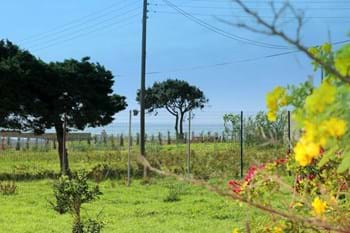 420,000 €
ALONAKI BAY HOUSE, Halikouna
3 Beds
2 Baths
1 Reception
98 m2
1300 m2
A modern house, only 50m from the beach in an area increasing in popularity, due to its designation as a conservation area, restricting new developments.
Ref: 17795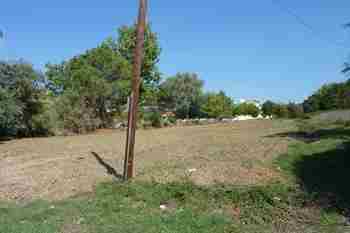 390,000 €
SANDY BEACH LAND, Agios Georgios (S)
3700 m2
This is 'easy build' plot of land, in a great location immediately across a quiet road from a long sandy beach. It represents an excellent commercial investment as it is entirely within the town planning zone, allowing a build potential of 1,200 m2.
Ref: 10020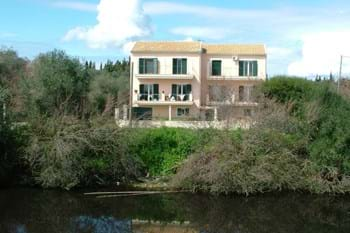 379,000 €
RIVERSIDE VILLA, MAISONETTES & STUDIOS, Lefkimmi
9 Beds
6 Baths
2 Receptions
330 m2
2500 m2
An interesting investment on the banks of the river, only 300m from the beach comprising a 3 bedroom house in private enclosed garden plus 2 new maisonettes each with 2 bedrooms, and 2 self contained studios on the ground floor.
Ref: 10674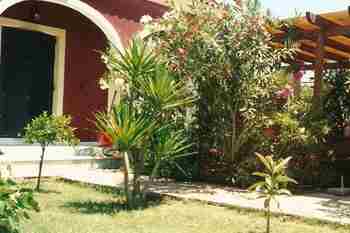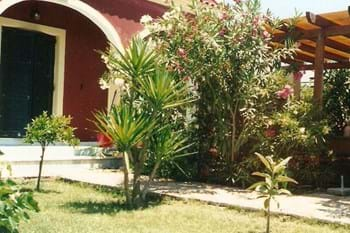 300,000 €
THE RED HOUSE, Issos
3 Beds
2 Baths
140 m2
1000 m2
A spacious comfortable house, in a popular seaside location, the house is ideal for a family home, holiday home, or rental property.
Ref: 14678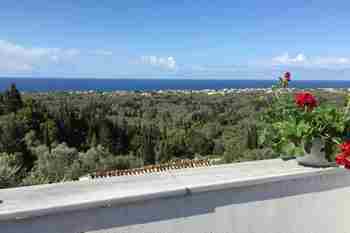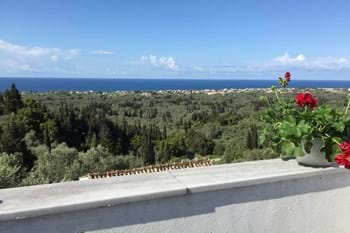 295,000 €
INFINITY SEA VIEW, Argyrades, Corfu
3 Beds
2 Baths
1 Reception
180 m2
675 m2
A beautifully restored 3 bedroom village house, with panoramic views down to the sea - and only 5 minutes drive from the sandy beach of St. Georges South. the house has been restored by its owners to a high standard yet retaining the local atmosphere.
Ref: 12556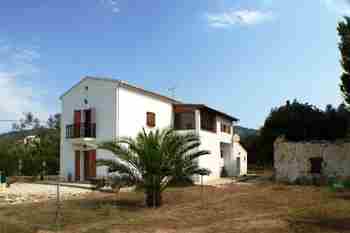 280,000 €
ISSOS HOUSE, Agios Georgios (s), Corfu
3 Beds
4 Baths
1 Reception
200 m2
4050 m2
An absolutely immaculately renovated 3 bedroom manor house, in a large garden, only a few minutes walk from the sea, not far from the popular villages of Agios Georgios and Argyrades.
Ref: 10840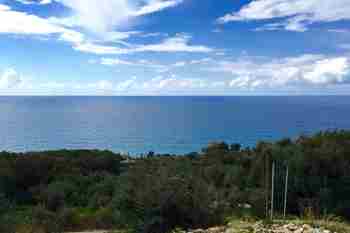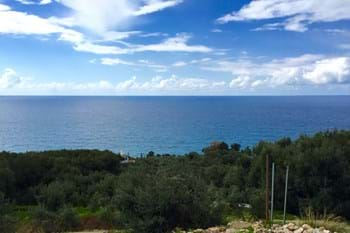 265,000 €
BLUE VIEW VILLA, Pentati
3 Beds
3 Baths
1 Reception
160 m2
1166 m2
An unfinished, potentially gorgeous villa, in a stunning location on the west coast, with uninterrupted views over the olive groves to the sea and hardly any other property in sight. The construction is well advanced and can be completed in accordance with the wishes of the buyer.
Ref: 11144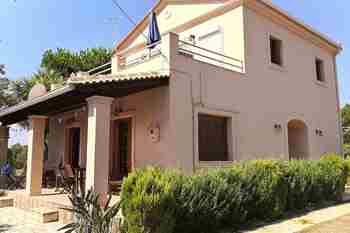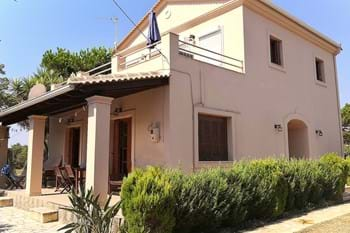 229,000 €
LAUREL HOUSE, St. Georges South, Corfu
3 Beds
2 Baths
1 Reception
150 m2
400 m2
An immaculate modern 3/4 bedroom house, close to beach, shops and tavernas in St. Georges South, this is a great property with flexible options either for a full time home, summer residence or rental investment.
Ref: 12605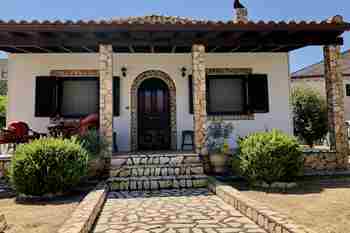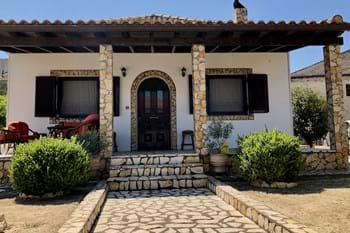 215,000 €
DRAGOTINA COTTAGE, near Lefkimmi
2 Beds
1 Bathroom
1 Reception
102 m2
1000 m2
A very nice 2 bedroom house, in a pretty 'hidden gem' village in the south of the island, close to all amenities, this property offers a lovely full time home, holiday home or letting investment - or a combination of these.
Ref: 17746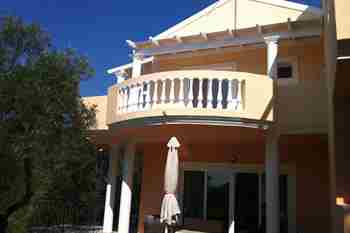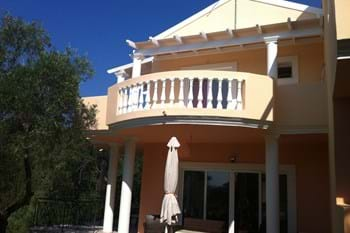 189,000 €
BAY VIEW MAISONETTES, Petriti, Corfu
2 Beds
2 Baths
2 Receptions
100 m2
400 m2
Three attractive maisonettes in a great location close to the sea, and with sea views. Each house has a spacious open plan living room, 2 bedrooms, a kitchen area and separate family room, bathroom and guest cloakroom.
Ref: 10994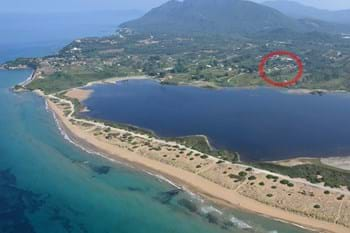 189,000 €
KORISSION VIEW VILLAS 2 and 3, Halikouna
6 Beds
6 Baths
2 Receptions
200 m2
4000 m2
This property consists of two separate concrete 2 floor structures, the basis of 2 x 100 m2 villas with individual pools which are on the shores of Lake Korission, and just a few minutes walk to the long sandy Halikouna Beach. This is a conservation area and building is strictly regulated, meaning that the peace and tranquillity of the area will always be preserved. The price quoted is for each villa.
Ref: 11137