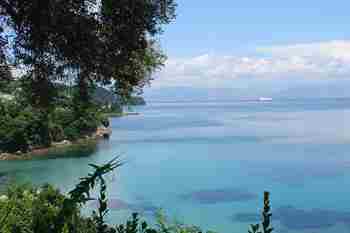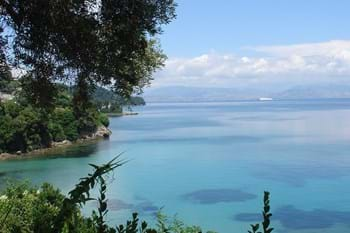 POA
SEASIDE HOTEL, South east coast
96 Beds
96 Baths
2 Receptions
5000 m2
8000 m2
One of the island's longest established hotels, in a unique seafront location, close to Corfu Town. The hotel is fully operational, set along a beautiful coast and is one of only 4 hotels with views to the iconic Mouse Island.
Ref: 14694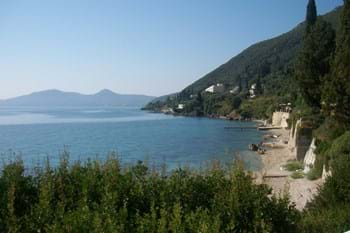 POA
EAST COAST BEACHFRONT HOTEL, near Benitses
78 Beds
78 Baths
2700 m2
11000 m2
A unique opportunity to purchase a hotel directly on the sea, with its own virtually private beach. The property has been closed for more than ten years, and both the building and its extensive gardens are in need of upgrading but it offers a rare opportunity for an investor to acquire rarely available beachfront property in Corfu.
Ref: 10627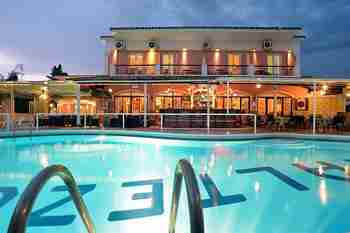 950,000 €
CENTRAL HOTEL 3
22 Beds
22 Baths
2 Receptions
1000 m2
1500 m2
A small family run hotel located conveniently close to Corfu Town, and only 250m from the beach, the hotel was refurbished in 2015 and has operated successfully for many years.
Ref: 17797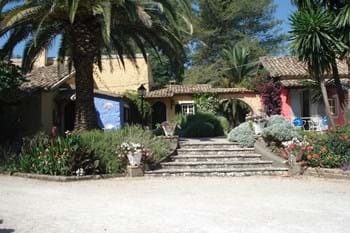 1,500,000 €
CASA LUCIA, Sgombou
13 Beds
13 Baths
10 Receptions
563 m2
Casa Lucia is an old stone olive press has been converted into 8 self-catering cottages and a large event room. Approaching the property - some of which dates from Venetian times - is like entering a traditional village, with the cottages painted different colours, and their design resembling the effect of village rooftops.
Ref: 11373
3,000,000 €
THE GAIA ESTATE, near Danilia, Corfu
12 Beds
12 Baths
4 Receptions
800 m2
5550 m2
This is 3, absolutely outstanding, Mediterranean-style villas and separate large guest/staff house, reflecting the highest standards of design and build quality, in a convenient location, 3km from the nearest beach and the international Marina, and only 11km from Corfu Town and the Airport. Each property has commanding views down to the Marina, Corfu town and along the scenic north-east coast.
Ref: 10159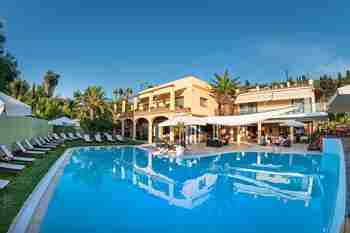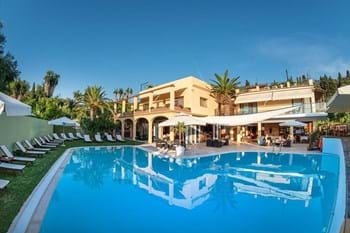 1,200,000 €
PELEKAS POOL COMPLEX, Pelekas
10 Beds
10 Baths
600 m2
1800 m2
A small complex of 10 luxury rooms, a huge swimming pool with sunbathing area, bar/restaurant, and the possibility ot develop a stunning roof terrace, or create additional accommodation.
Ref: 13659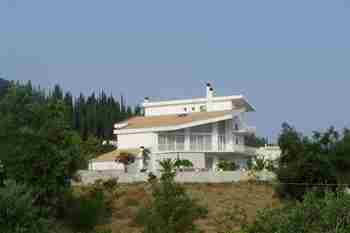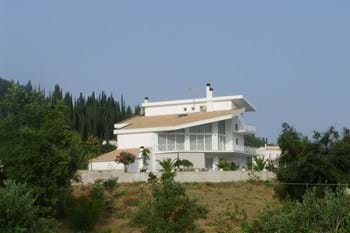 1,500,000 €
PEACOCK VILLA, Agioi Deka, Corfu
8 Beds
4 Baths
3 Receptions
520 m2
2400 m2
A stylish contemporary villa, in a convenient location just a short drive from Corfu Town and the Airport. The villa has extensive views across to the lagoon, Corfu Town and beyond. The layout of the property is designed to make the most of its space and views, and lends itself to a variety of accommodation combinations.
Ref: 11211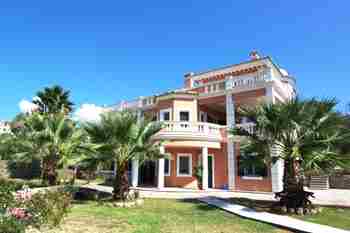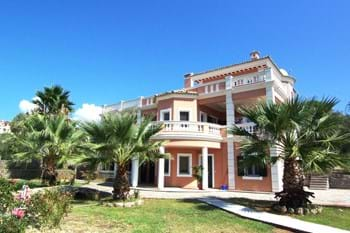 1,800,000 €
LAGOON VILLA, Kommeno, Corfu
7 Beds
5 Baths
2 Receptions
430 m2
3750 m2
An extravagantly designed villa in one of the most sought after areas of Corfu. With luxurious finishings and a beautiful view, this is an exceptional property. The owner is very keen to sell and is willing to discuss a variety of payment options on the asking price.
Ref: 10408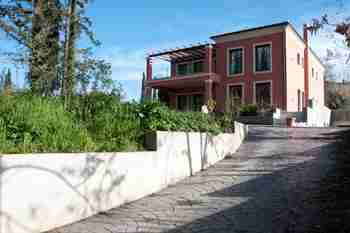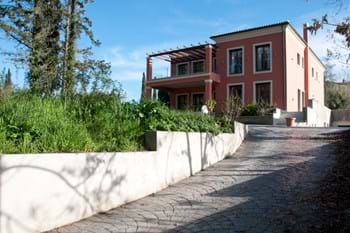 700,000 €
ARCHITECT VILLA, Triklino
7 Beds
6 Baths
705 m2
1500 m2
A Villa designed to meet luxury standards in a central location. Multiple bedrooms, verandas from every room and modern technology throughout the whole property.
Ref: 15700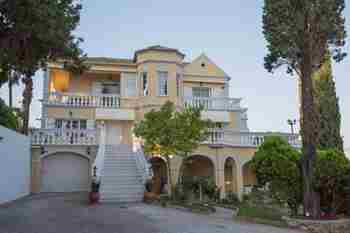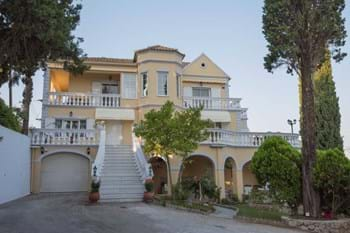 1,200,000 €
PALACE VILLA, Gastouri
7 Beds
6 Baths
3 Receptions
450 m2
2500 m2
A large, absolutely stunning property in a sought after location near the Achilleon Palace, the villa offers wonderful views, lovely gardens and a convenient location close to Corfu Town.
Ref: 17771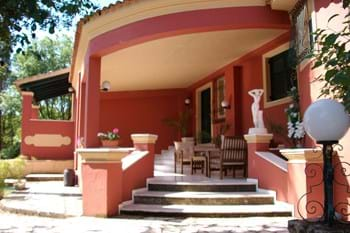 495,000 €
PELEKAS VILLA, Pelekas, Corfu
6 Beds
5 Baths
2 Receptions
198 m2
5000 m2
A spacious villa, in a convenient location, offering a variety of possibilities for either a family home, rental villa, or 'boutique' hotel business.
Ref: 10502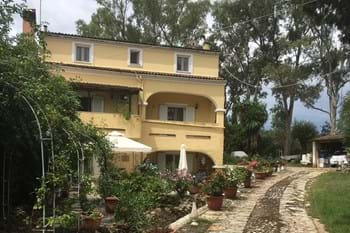 290,000 €
DANILIA HOUSE, Danilia, Corfu
6 Beds
4 Baths
1 Reception
250 m2
A very large, semi detached, family house in a quiet yet convenient area of Corfu, this property has been well looked after by its present owners. Reasonably priced, the large garden and swimming pool is an extra bonus!
Ref: 10609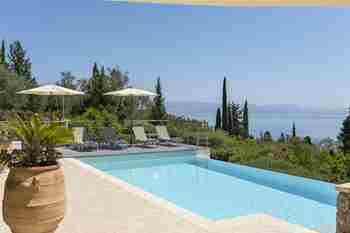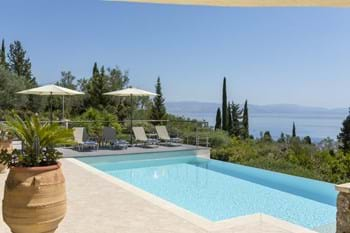 925,000 €
SEA BREEZE VILLA, Gastouri, Corfu
6 Beds
6 Baths
2 Receptions
200 m2
4000 m2
This is a gorgeous new 5 bedroom villa, near the popular village of Gastouri, convenient for Corfu Town, and only a short drive down to the sea. The house is wonderfully secluded yet accessible to all amenities.
Ref: 10651
650,000 €
VILLA IONIA, Poulades, Corfu
6 Beds
4 Baths
2 Receptions
400 m2
4100 m2
An interesting multi-level property, constructed around the centrepiece of an olive tree. The accommodation is designed to allow a variety of uses - one large family home, or a family home with separate self-contained unit. The house is conveniently located for access to Corfu Town and the international marina at Gouvia and has a splendid swimming pool and a sea view.
Ref: 10788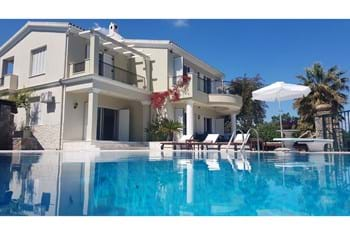 1,580,000 €
VILLA BELANDA, Gastouri, Corfu
6 Beds
6 Baths
1 Reception
470 m2
11670 m2
This gorgeous property is set in nearly 12,000 m2 of enclosed and well established gardens and woodland, with a stunning sea view. It offers a unique opportunity either for the property as it is now, with 100% privacy, or as an investment with the possibility of constructing 3 more exclusive villas on an adjacent parcel of land which is available at an additional price.
Ref: 11180