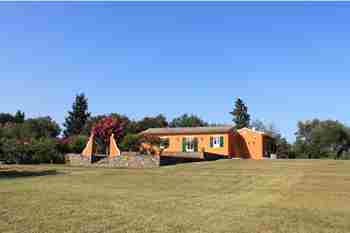 730,000 €
CORFU COUNTRYHOUSE, Danilia, Corfu
3 Beds
2 Baths
180 m2
53000 m2
The Countryhouse is a totally unique, classic property, in a large area of parkland, private woodland and olive groves. The owners of this property have created a gracious home which blends perfectly into the rolling parkland as if it has always been there.
Ref: 11452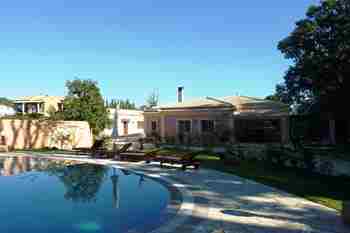 700,000 €
RIVERBANK, Potamos, Corfu
4 Beds
3 Baths
2 Receptions
315 m2
2300 m2
This is a splendid family home, with pool, guesthouse and lawned gardens just a short drive from the centre of Corfu town. Featuring a riverbank setting enabling boat access to the sea just a kilometer away.
Ref: 10737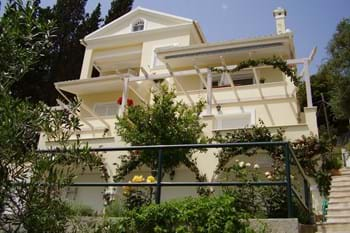 700,000 €
HILLSIDE SEAVIEW HOUSE, Perama
4 Beds
3 Baths
2 Receptions
255 m2
1345 m2
An unusual 4 bedroom property, set directly across the road from the sea, and with a small portion of land actually on the sea, this house is only a few minutes drive from Corfu Town. Steps or a lift lead up to the house which has absolutely uninterrupted sea views across to the Greek mainland.
Ref: 10872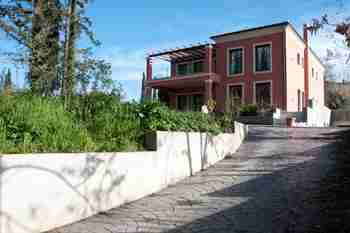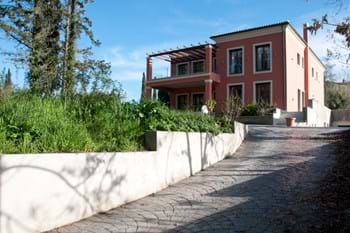 700,000 €
ARCHITECT VILLA, Triklino
7 Beds
6 Baths
705 m2
1500 m2
A Villa designed to meet luxury standards in a central location. Multiple bedrooms, verandas from every room and modern technology throughout the whole property.
Ref: 15700
650,000 €
VILLA IONIA, Poulades, Corfu
6 Beds
4 Baths
2 Receptions
400 m2
4100 m2
An interesting multi-level property, constructed around the centrepiece of an olive tree. The accommodation is designed to allow a variety of uses - one large family home, or a family home with separate self-contained unit. The house is conveniently located for access to Corfu Town and the international marina at Gouvia and has a splendid swimming pool and a sea view.
Ref: 10788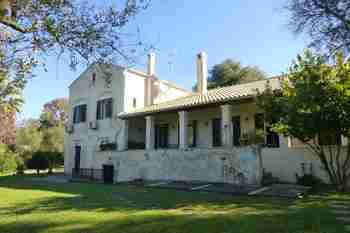 650,000 €
LA RESIDENZA, Evropouli, Corfu
3 Beds
3 Baths
2 Receptions
200 m2
4600 m2
This elegant family house is in a peaceful location close to the village of Evropouli, a short drive from Corfu town.
Ref: 10868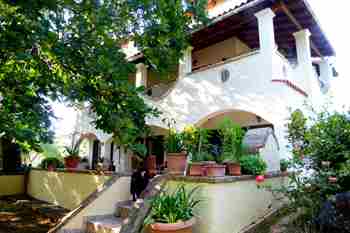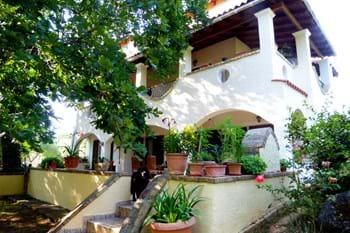 650,000 €
GIANT OAKS, Poulades, Corfu
6 Beds
3 Baths
2 Receptions
340 m2
4700 m2
In the most beautiful tranquil setting, this large family house offers spacious homes for two families.
Ref: 12561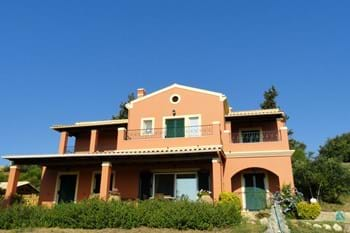 585,000 €
VILLA THEA, Poulades
4 Beds
3 Baths
1 Reception
250 m2
4500 m2
This large beautifully presented villa has a lovely landscaped garden and private swimming pool. The south facing views towards Corfu town are stunning.
Ref: 16709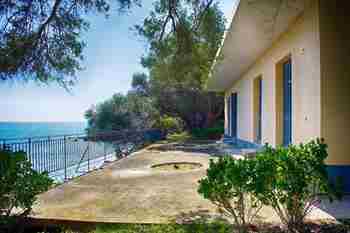 550,000 €
CORNER SEASIDE HOUSE, near Benitses
2 Beds
1 Bathroom
1 Reception
160 m2
1200 m2
This uniquely located seafront house near the marina in Benitses, is in need of some modernisation, but its prime location means that with some work it could be an absolute gem.,
Ref: 10934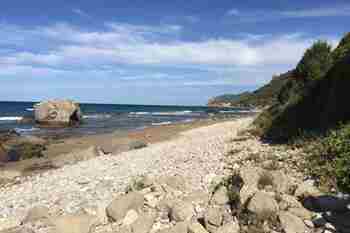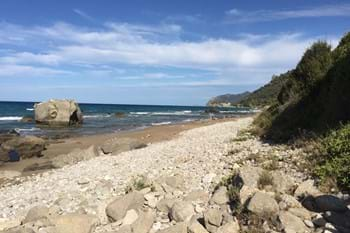 550,000 €
AGIOS GORDIS BEACHFRONT LAND, Agios Gordis, Corfu
9000 m2
This absolutely beautiful plot has direct access to a lovely quiet beach. With stunning views from the plot out to sea, this would be wonderful for the construction of a luxury villa.
Ref: 11335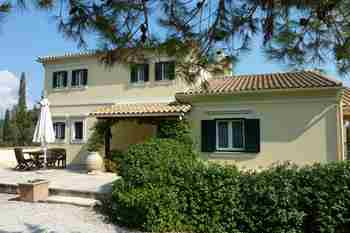 495,000 €
COUNTRYSIDE VILLA, Danilia
5 Beds
3 Baths
1 Reception
300 m2
4000 m2
Large family-sized villa in a quiet yet convenient area of Corfu. With five bedrooms and well laid-out living space this is a comfortable home. Lovely mature gardens surround the house.
Ref: 10158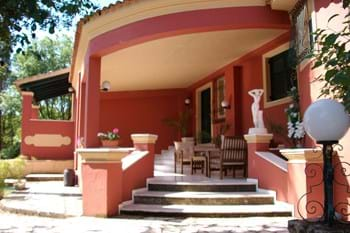 495,000 €
PELEKAS VILLA, Pelekas, Corfu
6 Beds
5 Baths
2 Receptions
198 m2
5000 m2
A spacious villa, in a convenient location, offering a variety of possibilities for either a family home, rental villa, or 'boutique' hotel business.
Ref: 10502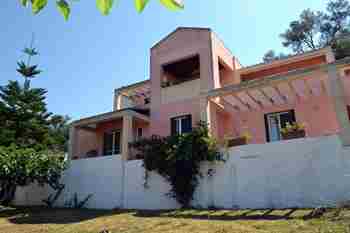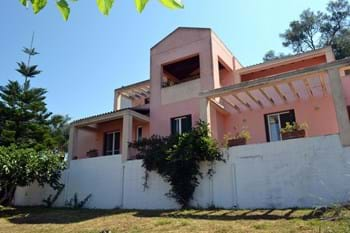 450,000 €
HILLVIEW HOUSE, Viros
3 Beds
3 Baths
2 Receptions
280 m2
1360 m2
A modern house, of unusual design in a convenient location close to Corfu Town, the property is perfect either for permanent living, holiday let - or both, since it has a separate studio.
Ref: 16730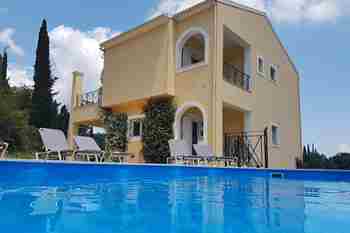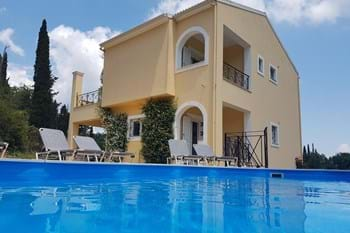 450,000 €
GREENVIEW VILLA, Viros
6 Beds
4 Baths
2 Receptions
280 m2
4000 m2
Newly on the market, a modern 4 bedroom villa with independent 2 bedroom apartment, and swimming pool. The property is a perfect combination of ideal home and holiday let.
Ref: 17805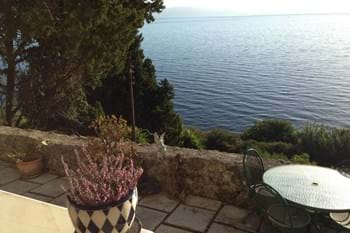 430,000 €
BLUE SEA HOUSE, near Benitses, Corfu
3 Beds
3 Baths
1 Reception
130 m2
3900 m2
This is a lovely 3 bedroom house set on the hillside outside the village of Benitses, which not only has absolutely stunning views but actually has direct access to a small, almost private beach from the lower part of the land.
Ref: 10845