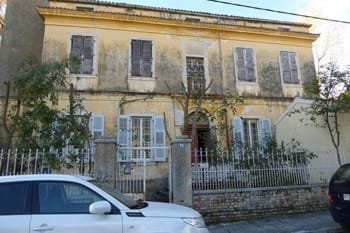 800,000 €
MANSION APARTMENT, Corfu Town, Corfu
This wonderful apartment is spread over the first floor and attic of this traditional gentleman's residence. It has its own private courtyard and front door and offers huge potential for a gracious home, conversion to several independent apartments, or even a boutique hotel.
Ref: 11231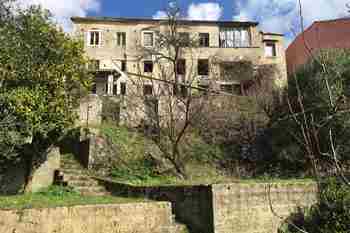 180,000 €
BONNY'S HOUSE, Spartilas, Corfu
The sky's the limit with this renovation project in Spartilas, with opportunity to create one large home or even a B & B for those looking to make a profitable investment.
Ref: 11505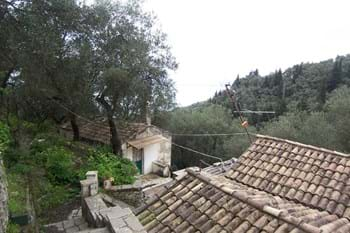 149,000 €
ZAFIROS STONE HOUSE, Apolisies
Lovely traditional stone house in a quiet mountain setting just outside the village of Apolisies, above Nissaki. In good condition but in need of renovation, this has the wonderful sea and mountain views so typical of this area.
Ref: 10107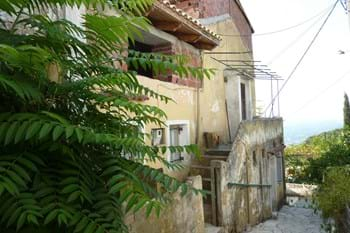 75,000 €
PRIFTATIKA HOUSE, Spartilas
3 Beds
2 Baths
1 Reception
216 m2
Large interesting house which has had all structural work carried out and is now ready for finishing off. A lovely old house in a superb position.
Ref: 10266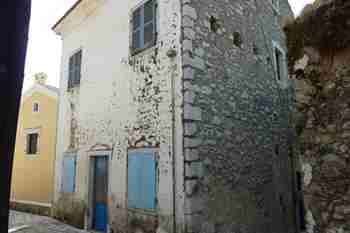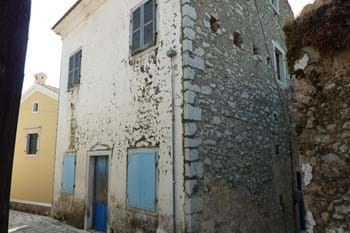 80,000 €
BLUE SHUTTER HOUSE, Spartilas
A beautifully proportioned house in the middle of this popular village.
Ref: 10270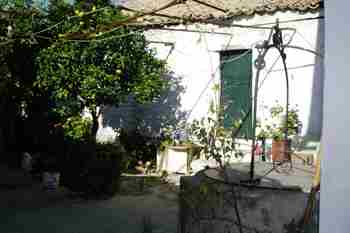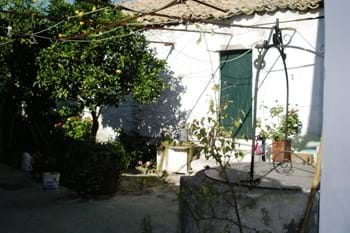 80,000 €
KRINI COURTYARD HOUSE, Krini, Corfu
3 Beds
1 Bathroom
2 Receptions
400 m2
500 m2
Walk through the archway in the wall just off the square and you are in a private oasis in the midst of this outrageously pretty hill village. The property covers three sides of a courtyard and the fourth is a blank wall, ensuring privacy on all sides.
Ref: 10421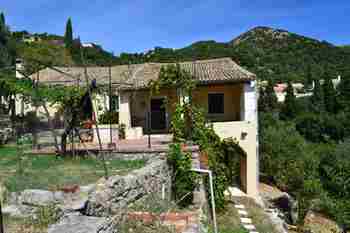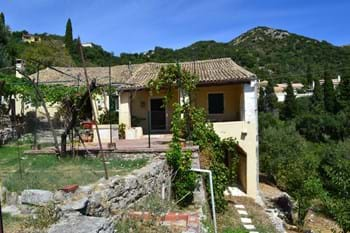 370,000 €
VIGLATSOURI OLIVE PRESS AND HOUSE, Viglatsouri, Near Nissaki
3 Beds
1 Bathroom
340 m2
2320 m2
With panoramic sea views and loads of character features, this beautiful old building is a rare find, especially in this sought after area.
Ref: 11190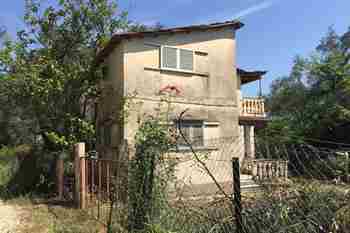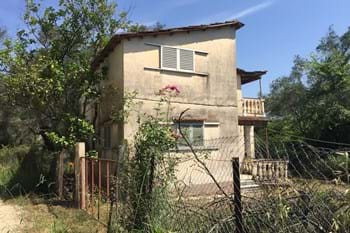 79,000 €
ST. PETER'S HOUSE, near Lefkimmi, Corfu
3 Beds
2 Baths
1 Reception
80 m2
400 m2
A 2 storey house, in need of modernisation, approximately 300m from the beach in the area of St. Peter, with very easy access to supermarkets, shops and restaurants in Lefkimmi and Kavos.
Ref: 11457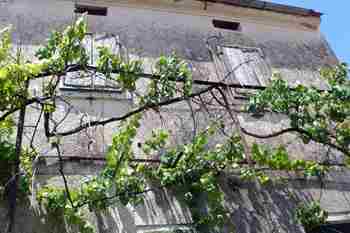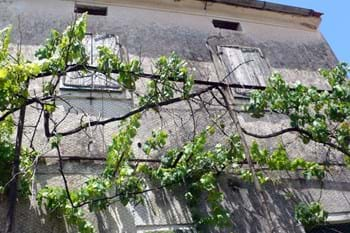 95,000 €
AGIA PARASKEVI HOUSE, Kinopiastes, Corfu
3 Beds
1 Reception
110 m2
127 m2
A lovely village property with a garden, views across the mountains and out towards Corfu Town.
Ref: 12578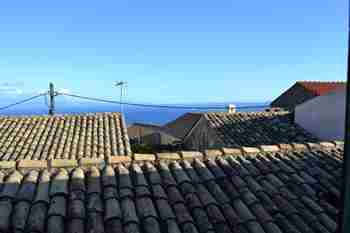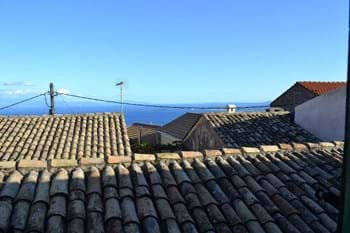 45,000 €
KASSIANI'S HOUSE, Spartilas
3 Beds
1 Bathroom
1 Reception
170 m2
A large village house with lots of potential!
Ref: 17778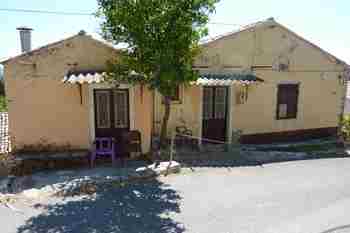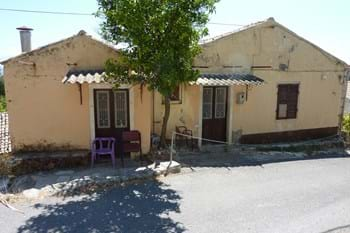 65,000 €
PEACH COTTAGE, Vigla
2 Beds
1 Bathroom
1 Reception
120 m2
A two storey house in need of renovation in a traditional village in the mountains above the north east coast.
Ref: 10311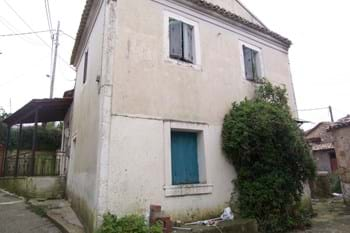 42,000 €
VILLAGE SQUARE HOUSE, Kastellani
2 Beds
1 Bathroom
1 Reception
81 m2
180 m2
A solid old house within sight of the village square in this lively village. In need of total renovation, but with potential to turn into a very attractive home.
Ref: 10364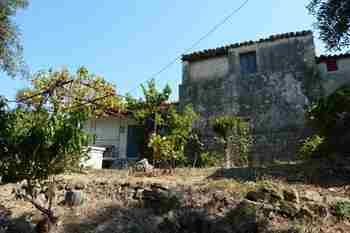 75,000 €
GRAPEVINE HOUSE, Agios Pandeleimonas
2 Beds
1 Bathroom
1 Reception
80 m2
1000 m2
A lovely old house in need of renovation set in a large garden, and just a few minutes drive from the centre of Acharavi with open country views to the sea.
Ref: 10618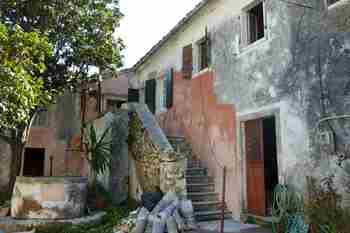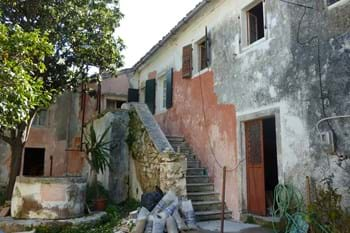 90,000 €
STONE WELL HOUSE, Skripero
2 Beds
1 Bathroom
1 Reception
160 m2
250 m2
A traditional Corfiot house in an enviable edge of village location, comprising the most attractive part of this old manor house in the lower part of Skripero village. It is offered for sale partly renovated. The vendor will completely renovate the roof and walls within the asking price, or will consider a lower offer.
Ref: 10682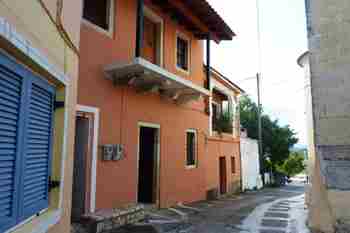 48,000 €
CHURCH SQUARE HOUSE, Kanakades
2 Beds
2 Baths
1 Reception
125 m2
With all of the structural work already completed, this lovely old house is in need of finishing off to its new owners' requirements. In the heart of a very traditional village, it has lots of character.
Ref: 10700