45,000 €
MATCHBOX COTTAGE, Sokraki
1 Bedroom
1 Bathroom
1 Reception
72 m2
12 m2
This house was built in 1835, and still has a great deal of its original character and features. Entering through the old-fashioned gateway into the courtyard, the front door leads into an entrance area and up a couple of steps to the living room/kitchen with original open fireplace. A shower room is tucked away under the stairs, with the unusual feature of an old bread oven inside it! Stairs lead to the bedroom which is large and airy with a small balcony to the front overlooking the courtyard. Here the floor is wooden, and the high ceiling has exposed beams. Heating for the colder months is provided by the open fire and two electric heaters. Fully renovated in 1997, this is a great little house for holidays or those seeking the quiet life in a tranquil village setting.
Ref: 10247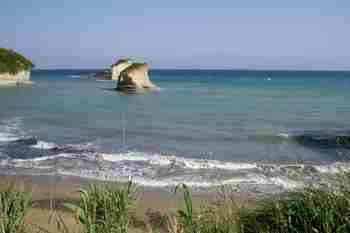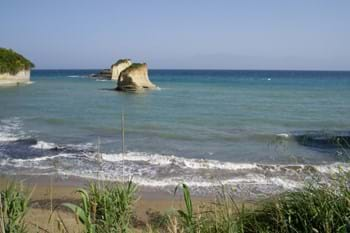 1,575,000 €
APOTRIPITI LAND AND BUILDING, Melitsa, Sidari
10500 m2
This plot of land is right on the sea, with excellent road access and potential to build up to 4,000 m2 due to its location within the town planning zone. As such it presents an incredible opportunity to acquire a prime location sea-side plot of land large enough for commercial purposes or to build a huge villa with privacy guaranteed due to the size of its grounds.
Ref: 10463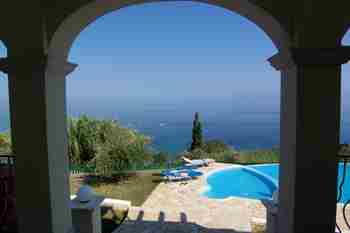 1,600,000 €
OCEANUS HOUSE, Agios Ioannis, Karoussades
4 Beds
4 Baths
1 Reception
240 m2
4800 m2
Absolute luxury right next to the sea. This villa has been built using only the best quality materials - and it shows.
Ref: 10042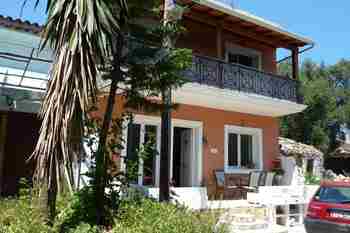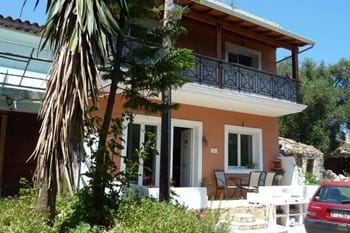 165,000 €
SANCHI, Agios Pandeleimonas, Corfu
2 Beds
1 Bathroom
1 Reception
110 m2
55 m2
Beautifully renovated village house in a quiet yet convenient countryside setting.
Ref: 10576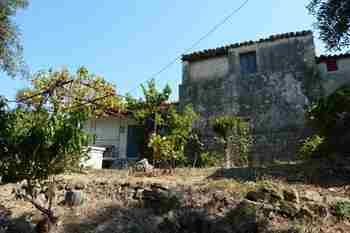 75,000 €
GRAPEVINE HOUSE, Agios Pandeleimonas
2 Beds
1 Bathroom
1 Reception
80 m2
1000 m2
A lovely old house in need of renovation set in a large garden, and just a few minutes drive from the centre of Acharavi with open country views to the sea.
Ref: 10618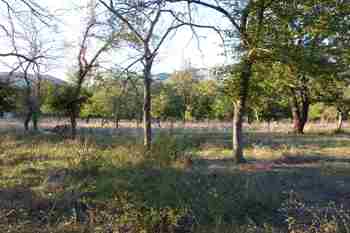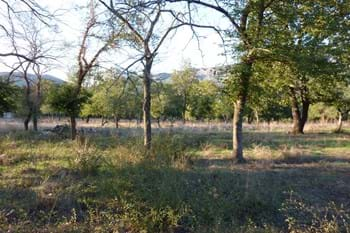 180,000 €
MEADOW LAND, Skripero
17600 m2
Lifestyle change! All you need to start an eco-farm ready and waiting to go. This large plot of land is within easy reach of the nearest village, has covered stabling and is completely fenced.
Ref: 10628
130,000 €
PANAYIA HOUSE, Skripero, Corfu
3 Beds
2 Baths
2 Receptions
140 m2
35 m2
Traditional village house in good condition right opposite the orthodox church, within walking distance of shops, cafe and buses.
Ref: 10658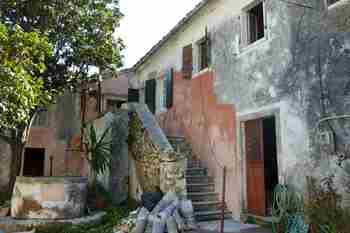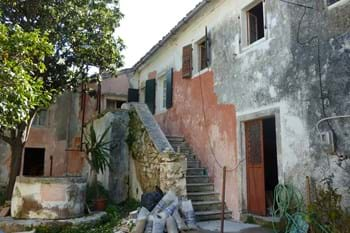 90,000 €
STONE WELL HOUSE, Skripero
2 Beds
1 Bathroom
1 Reception
160 m2
250 m2
A traditional Corfiot house in an enviable edge of village location, comprising the most attractive part of this old manor house in the lower part of Skripero village. It is offered for sale partly renovated. The vendor will completely renovate the roof and walls within the asking price, or will consider a lower offer.
Ref: 10682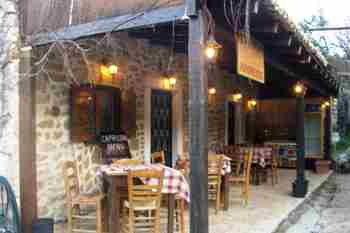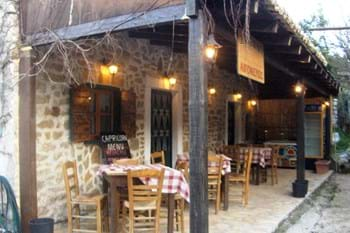 140,000 €
CAPRICORN, Old Perithia
110 m2
One of the original tavernas in this lovely mountain village - operating again after a few years of closure, Capricorn is a ready made business. The price includes the goodwill and the actual building and all the equipment.
Ref: 10690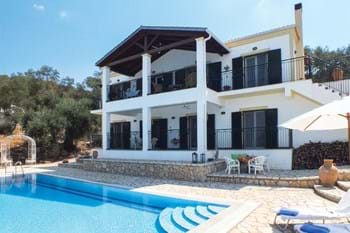 595,000 €
LA CASA DIGIOVANNI, Perithia, Corfu
4 Beds
3 Baths
2 Receptions
260 m2
4500 m2
This family-sized villa has recently been completed and has a large swimming pool and terrace with a lovely sea view. On the outskirts of the bustling village of Perithia, it is within walking distance of the village facilities.
Ref: 10732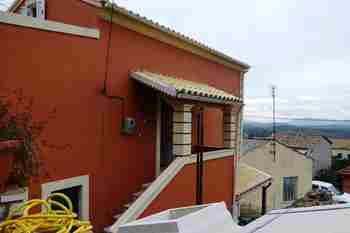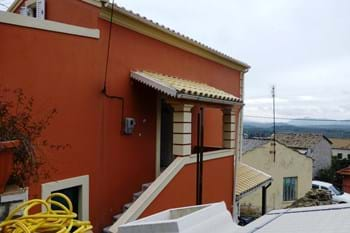 150,000 €
LEDA'S HOUSE, Skripero
3 Beds
2 Baths
1 Reception
85 m2
50 m2
Immaculately presented village home. Leda's house has a small courtyard garden and is situated in the middle of the upper part of the village, within walking distance of the shops, bus stop and cafes.
Ref: 10779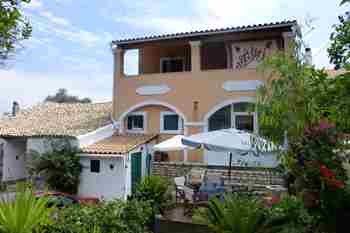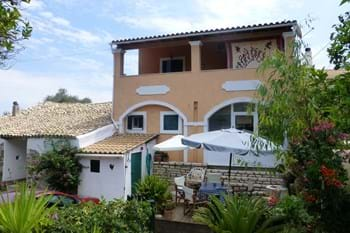 140,000 €
ELA ELA HOUSE, Agios Pandeleimonas
2 Beds
2 Baths
1 Reception
137 m2
280 m2
Surrounded by olive groves, this lovely house has a pretty garden and is in a very secluded position.
Ref: 10806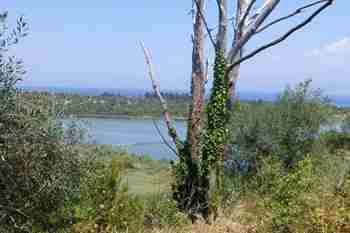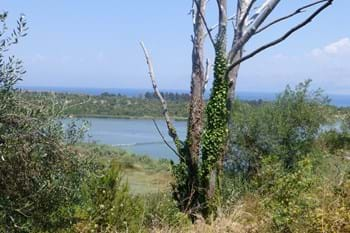 120,000 €
PRENTOULIS LAND, Near St Spiridons Bay
3469 m2
This easy-to-build on plot of land is conveniently placed on the side of the road, is close to the beach at St Spiridon's Bay and has views over the lake and nature reserve to the sea.
Ref: 10876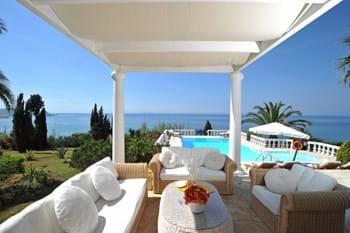 1,490,000 €
VILLA ASTERI, Agios Ioannis, Karoussades
4 Beds
4 Baths
1 Reception
300 m2
6000 m2
Villa Asteri is a luxurious modern villa which occupies a spectacular location on the north coast of Corfu with wonderful sunset views from all the main rooms and the swimming pool. The large garden runs right down to the sea, from where it would be possible to build steps to a virtually private narrow beach.
Ref: 10895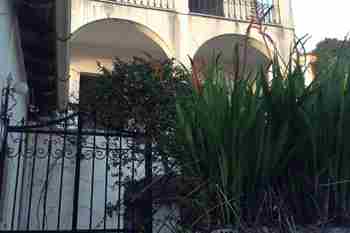 190,000 €
KIMON'S HOUSE, Skripero
3 Beds
1 Bathroom
1 Reception
80 m2
20 m2
Located very close to the village parking area, this is a ready to move into house with a separate old house in need of internal renovation. South facing with a view over the village rooftops and a small courtyard style garden this is a classic Corfiot village house in excellent condition.
Ref: 10898