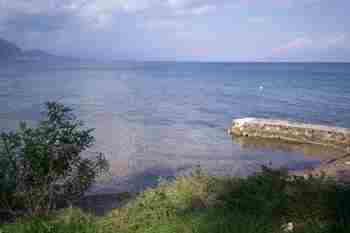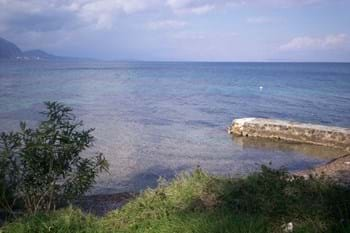 1,250,000 €
TURQUOISE HARBOUR VILLAS, Boukari
12 Beds
12 Baths
3 Receptions
480 m2
4000 m2
Three unique villas built in contemporary style each with a private swimming pool, only 100m from a tiny turquoise harbour, on the calm south east coast, just a short distance from the well known village of Boukari. The villas are recently completed to a high standard, and represent an excellent letting investment.
Ref: 10141
3,000,000 €
THE GAIA ESTATE, near Danilia, Corfu
12 Beds
12 Baths
4 Receptions
800 m2
5550 m2
This is 3, absolutely outstanding, Mediterranean-style villas and separate large guest/staff house, reflecting the highest standards of design and build quality, in a convenient location, 3km from the nearest beach and the international Marina, and only 11km from Corfu Town and the Airport. Each property has commanding views down to the Marina, Corfu town and along the scenic north-east coast.
Ref: 10159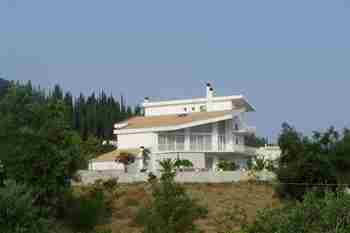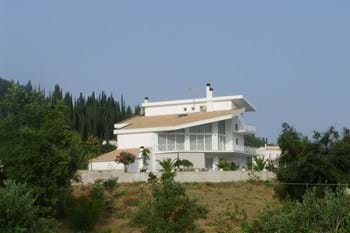 1,500,000 €
PEACOCK VILLA, Agioi Deka, Corfu
8 Beds
4 Baths
3 Receptions
520 m2
2400 m2
A stylish contemporary villa, in a convenient location just a short drive from Corfu Town and the Airport. The villa has extensive views across to the lagoon, Corfu Town and beyond. The layout of the property is designed to make the most of its space and views, and lends itself to a variety of accommodation combinations.
Ref: 11211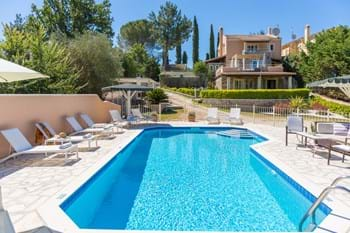 1,200,000 €
VILLA NIKOLAS, Dassia, Corfu
7 Beds
5 Baths
3 Receptions
293 m2
2000 m2
This unusual 7 bedroom villa, with two swimming pools is only 200m from the beach, and a short walk from shops and restaurants.
Ref: 10162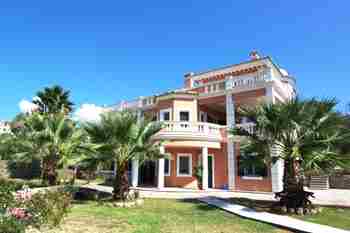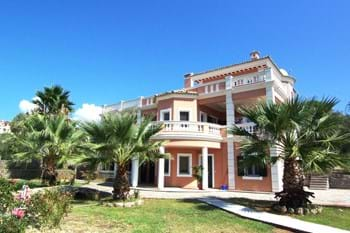 1,800,000 €
LAGOON VILLA, Kommeno, Corfu
7 Beds
5 Baths
2 Receptions
430 m2
3750 m2
An extravagantly designed villa in one of the most sought after areas of Corfu. With luxurious finishings and a beautiful view, this is an exceptional property. The owner is very keen to sell and is willing to discuss a variety of payment options on the asking price.
Ref: 10408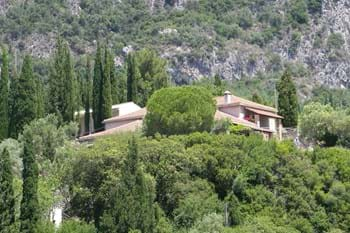 1,300,000 €
PALEOKASTRITSA ESTATE, Paleokastritsa
7 Beds
6 Baths
4 Receptions
200 m2
6400 m2
Unique estate for sale in the centre of this well-known beauty spot. Perched on a headland there is a new and breathtaking view from every angle.
Ref: 10493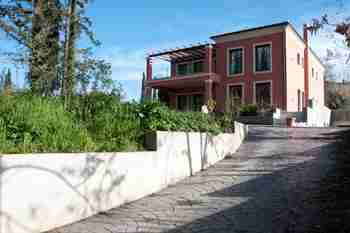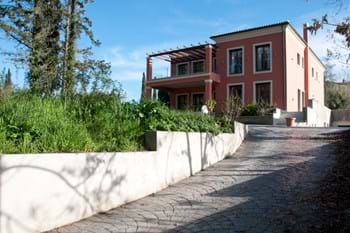 700,000 €
ARCHITECT VILLA, Triklino
7 Beds
6 Baths
705 m2
1500 m2
A Villa designed to meet luxury standards in a central location. Multiple bedrooms, verandas from every room and modern technology throughout the whole property.
Ref: 15700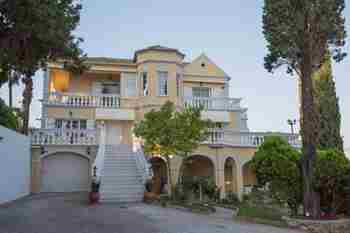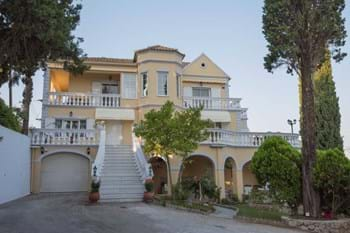 1,200,000 €
PALACE VILLA, Gastouri
7 Beds
6 Baths
3 Receptions
450 m2
2500 m2
A large, absolutely stunning property in a sought after location near the Achilleon Palace, the villa offers wonderful views, lovely gardens and a convenient location close to Corfu Town.
Ref: 17771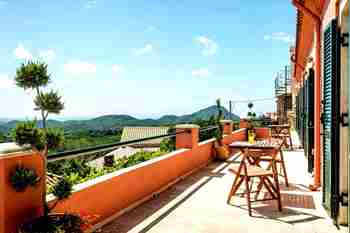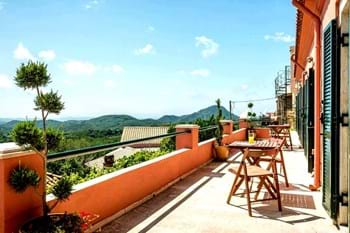 800,000 €
MANSION 1863, Sgourades
7 Beds
4 Baths
3 Receptions
350 m2
600 m2
A newly renovated traditional property with lovely views.
Ref: 17791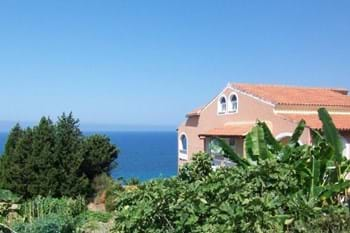 940,000 €
OLEANDER SEASIDE VILLA, Paramonas
6 Beds
3 Baths
1 Reception
200 m2
4000 m2
One of those incredibly rare, absolute beachfront properties, with a virtually private beach, in a fantastic position on the secluded west coast of Corfu.
Ref: 10495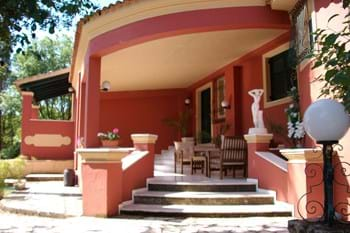 495,000 €
PELEKAS VILLA, Pelekas, Corfu
6 Beds
5 Baths
2 Receptions
198 m2
5000 m2
A spacious villa, in a convenient location, offering a variety of possibilities for either a family home, rental villa, or 'boutique' hotel business.
Ref: 10502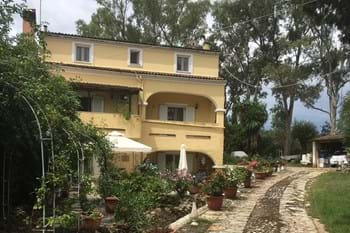 290,000 €
DANILIA HOUSE, Danilia, Corfu
6 Beds
4 Baths
1 Reception
250 m2
A very large, semi detached, family house in a quiet yet convenient area of Corfu, this property has been well looked after by its present owners. Reasonably priced, the large garden and swimming pool is an extra bonus!
Ref: 10609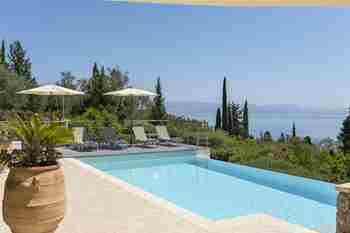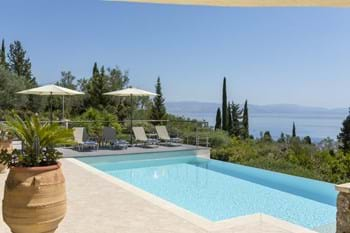 925,000 €
SEA BREEZE VILLA, Gastouri, Corfu
6 Beds
6 Baths
2 Receptions
200 m2
4000 m2
This is a gorgeous new 5 bedroom villa, near the popular village of Gastouri, convenient for Corfu Town, and only a short drive down to the sea. The house is wonderfully secluded yet accessible to all amenities.
Ref: 10651
650,000 €
VILLA IONIA, Poulades, Corfu
6 Beds
4 Baths
2 Receptions
400 m2
4100 m2
An interesting multi-level property, constructed around the centrepiece of an olive tree. The accommodation is designed to allow a variety of uses - one large family home, or a family home with separate self-contained unit. The house is conveniently located for access to Corfu Town and the international marina at Gouvia and has a splendid swimming pool and a sea view.
Ref: 10788
6,000,000 €
KORALI SEASIDE VILLA, near Kassiopi, Corfu
6 Beds
7 Baths
1 Reception
360 m2
5140 m2
In process of renovation, this 6 bedroom seaside villa, in one of the prime locations in Corfu, is an outstanding property. Once a boutique hotel, the house has direct level access onto a sandy beach in a calm bay. The property also offers landscaped grounds, with a completely separate guest house, and additional staff accommodation.
Ref: 10993