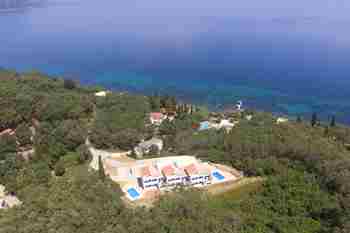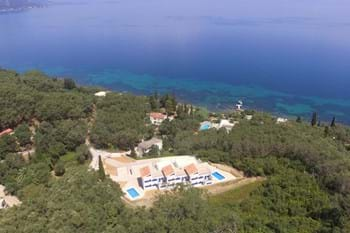 1,250,000 €
TURQUOISE HARBOUR VILLAS, Boukari, Corfu
12 Beds
12 Baths
3 Receptions
480 m2
4000 m2
Three unique villas built in contemporary style each with a private swimming pool, only 100m from a tiny turquoise harbour, on the calm south east coast, just a short distance from the well known village of Boukari. The villas are recently completed and represent an excellent letting investment.
Ref: 11156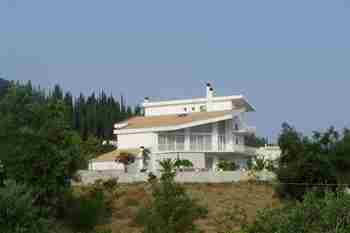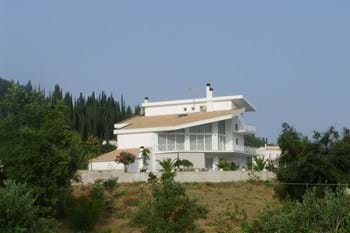 1,250,000 €
PEACOCK VILLA, Agioi Deka, Corfu
8 Beds
4 Baths
3 Receptions
520 m2
2400 m2
A stylish contemporary villa, in a convenient location just a short drive from Corfu Town and the Airport. The villa has extensive views across to the lagoon, Corfu Town and beyond. The layout of the property is designed to make the most of its space and views, and lends itself to a variety of accommodation combinations.
Ref: 11211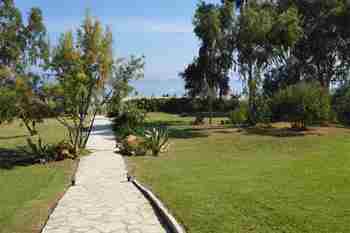 1,250,000 €
BEACH HAVEN VILLA 1, Apraos, Corfu
4 Beds
4 Baths
2 Receptions
180 m2
2500 m2
One of a pair of villas right on one of the best beaches in Corfu - the garden path finishes on the sand! This modern 4 bedroom villa is perfect in every way - spacious, well constructed, amazing location, and close to the amenities of Kassiopi and Acharavi.
Ref: 11464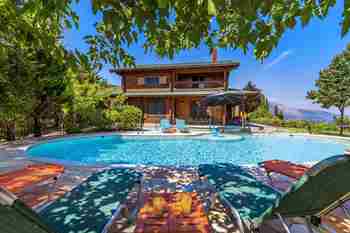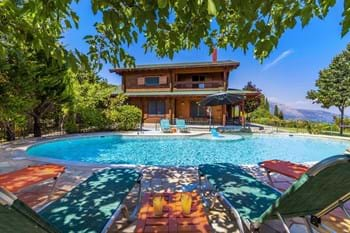 1,200,000 €
THE NEST, Kato Korakiana, Corfu
5 Beds
2 Baths
1 Reception
230 m2
4750 m2
This eco-friendly villa, constructed of top quality wood to the highest specifications, commands an imposing position on a hillside in the Agia Eleni district of Kato Korakiana, and has wonderful far reaching views towards Corfu town, the Marina and up the east coast.
Ref: 10712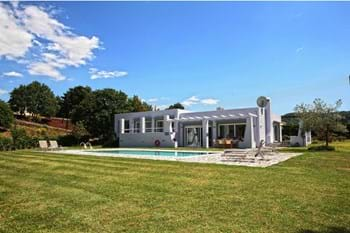 1,200,000 €
VOTANA BEACH VILLA, Avlaki, Corfu
4 Beds
4 Baths
208 m2
4300 m2
A spacious 4 bedroom villa only 50m from the beach, in the prestigious area of Kassiopi. This is an attractive open plan villa, with lovely landscaped gardens and patio areas.
Ref: 10778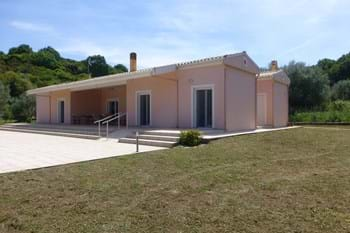 1,200,000 €
FILITSA, Avlaki, Corfu
5 Beds
4 Baths
1 Reception
185 m2
4000 m2
Filitsa is a newly built, single storey villa, on a large level plot of land just 100m from the beach at Avlaki. The villa is ideal for family holidays, and for those with mobility problems.
Ref: 11050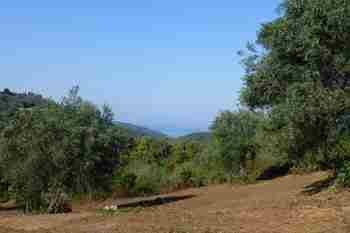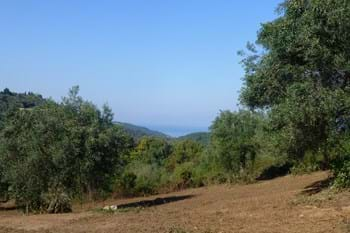 1,200,000 €
LIONDARI LAND, Agios Stephanos, Corfu
40000 m2
This enormous plot of land has lovely sea and mountain views and is in one of the most sought after areas of Corfu.
Ref: 11100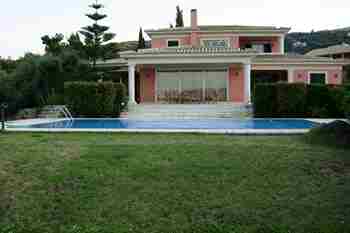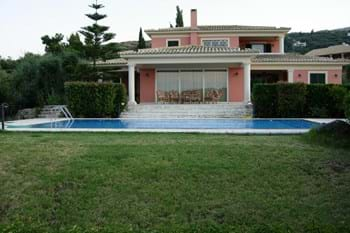 1,200,000 €
VILLA OLIVIA, Kassiopi
4 Beds
4 Baths
1 Reception
232 m2
8840 m2
This large, high quality villa is within a very short walk of the centre of Kassiopi. With four bedrooms and bathrooms, a large swimming pool and private grounds, this is an excellent holiday rental opportunity or year round home.
Ref: 11107
1,200,000 €
VILLA CLEMENTINE, Dassia, Corfu
5 Beds
5 Baths
1 Reception
201 m2
4050 m2
This immaculate 5 bedroom property needs to be viewed to be truly appreciated. Located only 250m from the beach, and only a few minutes drive to Corfu Town, absolutely everything has been considered for convenience and comfort in beautiful surroundings.
Ref: 11356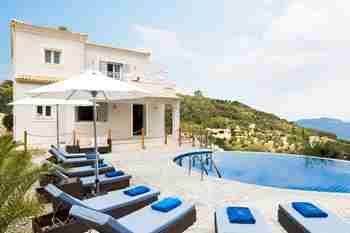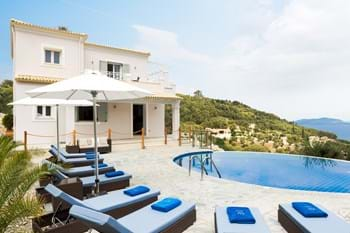 1,200,000 €
VILLA ANTHOS, Kerasia, Corfu
4 Beds
4 Baths
1 Reception
160 m2
2100 m2
Villa Anthos is superbly located on the hillside overlooking the prestigious north east coast of Corfu with views over to the mainland. A short drive down to the beach at Kerassia and a local shop and bakery within walking distance make this property a popular choice.
Ref: 11499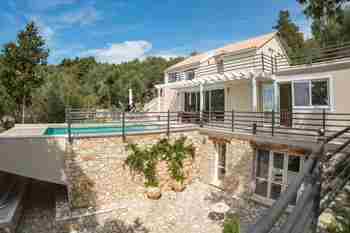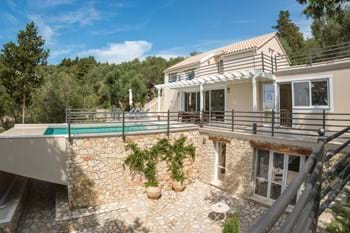 1,200,000 €
KASTANIDA HOUSES, Kastanida, Paxos
4 Beds
4 Baths
2 Receptions
150 m2
2054 m2
Two identical villas, each with their own private pool, in the quiet hamlet of Kastanida on the West coast of Paxos.
Ref: 12549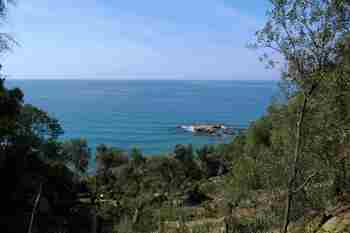 1,150,000 €
SUNSET BEACH LAND, Pentati
35000 m2
Approximately 150m of direct beachfront makes this stunning plot of 35,000 sq.m. extra special, providing an ideal location for an upmarket development, or stunning private property with immediate beach access.
Ref: 10505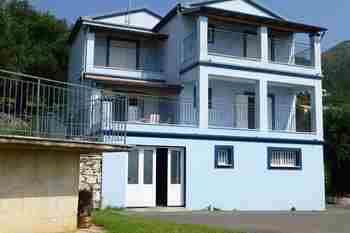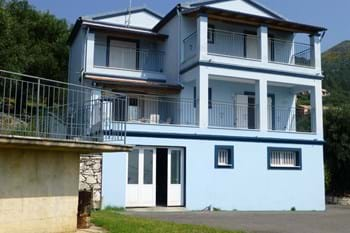 1,100,000 €
VILLA KLEOPATRA, Nissaki
3 Beds
3 Baths
1 Reception
200 m2
4150 m2
Standing in a lovely plot of land above the road, this villa is just a short walk from the tavernas and pretty beach at Nisaki. With lovely sea views and a three bedrooms, it is an ideal rental property.
Ref: 10948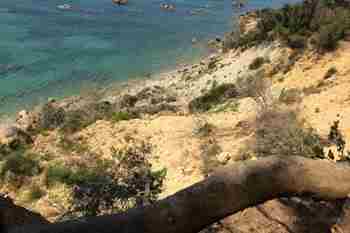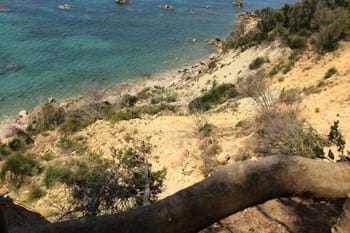 1,100,000 €
LAND ABOVE THE SEA, Halikouna
A large plot of land in the conservation area of Halikouna, already divided into 3 separate plots. One plot has extensive sea frontage (high above the sea) and the other two are set back, but also with a pathway giving access to the sea frontage.
Ref: 11447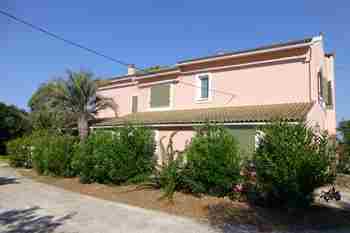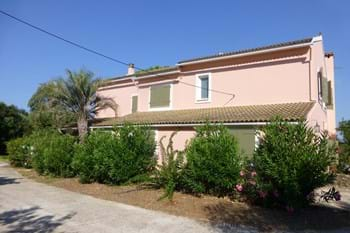 1,000,000 €
PINE TREE HOUSE, Agios Ioannis, Corfu
4 Beds
3 Baths
1 Reception
300 m2
8300 m2
This spacious family home on a hillside with large garden and excellent countryside views has recently been refurbished and redecorated. Just a short drive to the sandy west coast beaches, it is also within easy reach of Corfu town and the airport.
Ref: 10292